What It Was Like - Peter Seth
(2014) - In the summer of 1968 a young man takes a job at a summer camp in Upstate New York. He will enter Columbia University that fall on a scholarship and needs to make some pocket money. It is at camp that he meets Rachel Prince. She's the unattainable queen of Camp Mooncliff. Beautiful but remote. The narrator (we never learn his name) tries anyway and wins her heart. It begins a roller coaster ride of love and betrayal that leads to prison for him.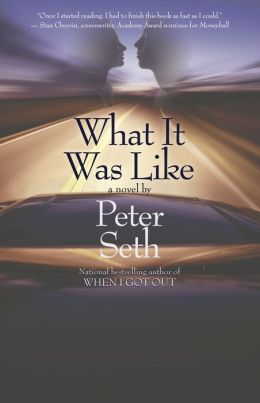 Don't worry, I haven't given anything away. You'll find out he's in prison on the very first page.
The English have this wonderful concept of the "busman's holiday". In simplest form it means that you spend your vacation doing something related or similar to what you do for a living. So a busman (bus driver) would go on a bus tour, a teacher would take classes, etc. As a youth minister, reading this book was something of a busman's holiday for me. It's about teenagers and the convoluted lives they can lead when life runs a little too far ahead of their ability to cope.
Sadly, this means that there was very little mystery about "what happens next" for me. Within a hundred pages I knew the ending, at least in broad strokes. The only question was whether it was going to be Romeo and Juliet, or Charlie Starkweather and Caril Ann Fugate. Consequently most of my reading time consisted of watching the adults in the story screw up the lives of these two young people over and over and over. The camp director, Rachel's parents, the narrator's parents, each every one of them failed these young people repeatedly. Any of them could have averted the ending but chose not to do so. From my point of view it was simply infuriating.
(Some folks may be surprised to see I include the narrator's parents in the list of failures. They are presented as nice if somewhat ineffectual folks just trying to do the best they can. I don't deny any of that. At the same time one of them needed to sit down and have a serious talk with their son as his life began to spin out of control. Instead they sat back, shook their heads mournfully and did nothing. In choosing their comfort over the needs of their child they failed their son just as surely as the vindictive evilness of Rachel's parents failed her.)
The authorial conceit of never naming the narrator could have become overly cute or burdensome. Credit to Peter Seth's writing skill that I very nearly didn't notice it. It wasn't till I tried to describe the action to my wife and couldn't come up with the boy's name that it struck me.
For me, "What It Was Like" didn't break any real new ground. The story here is all too familiar. Emotionally immature/broken teens desperately search for love, connection and stability. Poor decisions are made because they lack the background to understand what they are doing and they lack the parental support to gain it safely. Most kids get through that phase with just some minor emotional scars. Some don't make it through at all. It's just sad, depressing reading that's all too close to home.
At the same time, Seth's story telling skill is highly polished. The story is easily readable and carries the reader along quite effortlessly. While the story may have dragged at me, the storytelling kept me going. Hundreds of pages of personal and professional agony that I still wanted to plow through. I'm not sure there's any higher praise you can offer an author.
I wanted to be wrong. Seth kept me reading until I found out.
"What It Was Like" is due on the bookshelves September 2, 2014 from The Story Plant.
This one is a tough call for me. The story is only a 3 star for me personally but the writing deserves a little better than that. So somewhere between a "Worth A Look" and "Recommended".
Rating - ***1/2